Black Friday Search Engine Behavior [CHART]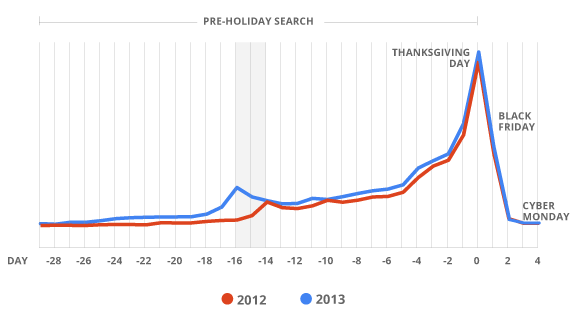 Last holiday season, shoppers seemed hungrier for a deal than they were for turkey. Black Friday transformed into Gray Friday; the big shopping day's sales were diluted a bit as retailers began their promotions and deals early. And consumers responded (some even ditching their family dinners to shop). Consequently, we're starting to see a shift away from "tentpole" events such as Black Friday. "Retailers stretched Black Friday deals and promotions across November—removing the focus from one big day of shopping," reports Shopper Trak's founder Bill Martin. A Google Consumer Survey conducted in July shows the following:
Some shoppers (29%) will start holiday shopping before Halloween.
Most will wait to begin buying gifts until the holiday shopping period: 19% will start shopping on Black Friday/Cyber Monday, and 48% will do so in early December.
Not only was consumer interest in Black Friday up 27% YoY from 2012, but queries relating to the topic also started about a week earlier (Google Data). Read the rest at think with Google.
Black Friday Search Behavior [VIDEO]
I take a look at Black Friday search behavior in this short screencast:
Online Shopping For The Holidays
In this report, I comment on the staying power of the Black Friday shopping holiday: